We have been working on some updates for EASC for some time now. We are now rolling our a major design change for the site, and things will look very different. The old look was based upon our original sexchatsexchat site, and the new look is a different color scheme, along with some other enhancements to make everything on the site load faster.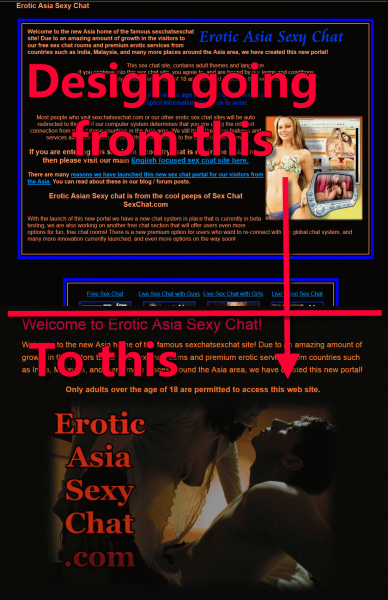 When we first launched EroticAsiaSexyChat.com the goal was to make a smooth transition for the hundreds of visitors who were coming to scsc that were being auto-redirected to our new site. This helped people navigate to the various pages of the web site, and we did what we could to match the experience that people were already enjoying at our US based sex chat portal. Now that most everyone has had time to digest the change over, it is time we focused on making this portal it's own.
We have been listening to feedback from users about loading issues, and paying attention to the way that people surf our web sites. Seeing the trends of more mobile devices like cell phones and tablets being used more and more to check out our chats, and hearing from people about their internet issues. We have done a bit of research in what we can do to make things load as fast as possible, and to make things work with different devices. We are now testing a mobile enhanced version of the chat rooms system, and hope that things will load much faster for everyone.
We hope that everyone likes the new look! If you have any issues about the new site design please let us know!
Colors have changed, many pages have been moved. If there are any pages or other content that you are missing, please let us know. This design is not final, and I will consider adding more pages if people are missing out on some of the pages that were once here, but have not made it into the new design.
Navigation has changed quite a bit - no more is there the left side navigation options, instead most of the page links are now found at the bottom of each page. We did not create the navigation in a way which is perfect, but we made some decisions based upon page load speed instead of cramming all the fancy graphics and mega menus that we once had.
We have removed a bunch of pages, and taken out a lot of the more naughty graphics. Hoping that this will make it easier for people to enjoy our chat rooms and other pages in a way that works well for them. Some people complained that some of our previous navigation was too naughty to have on the screen when they were using their computers in certain locations. My answer of course was that you should not be surfing a sex chat site at work or school, or any other place where other people were likely to peek into what you are surfing. However I do understand that a fair amount of people use our free text chat rooms just to talk to other people, and they are not always focused on the sexual side of things. So we have tried to find a good middle ground with the sexier things being less pornographic, and more hidden.
If you miss some of the pornographic side of things, let me know and I will find a way to mesh some more of our naughty graphics in other places and make those options more easily accessible.
For now this is just one step in the changes planned for this year.
We plan to add more to this site, and are considering many more changes as well.
We would like to find some more admins / moderators, and change the rules for the users and rules for the moderators in ways that make things better for everyone as well.
We may change the way user accounts are registered as well.
We have some other ideas, but we try to focus on things that our users suggest as well. So let me know here in the comments on this post, or via the site suggestions page.
Hope everyone enjoys a faster, easier, and better experience with our new site design and mobile chat room options!