Some people may be seeing a very new version of the web site today, and others may still be seeing our older version.
Don't panic! This new site design is not yet complete; more changes are coming!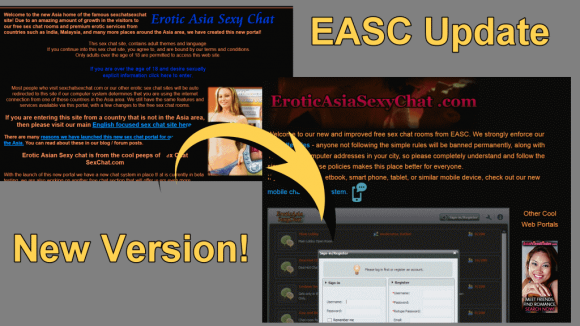 This update sets up the foundation for more updates that should make the site easier to load with multiple devices including tablets and phones. The new site version should load a bit faster as well, and these are the main enhancements we have been working on. There are obviously many more changes as well.
We changed up the color scheme quite a bit, I hope everyone enjoys the new colors. We are not 100% sure we will keep this new color scheme, but thought it would be worth an experiment, hopefully everyone will enjoy the new colors and how we have changed up some of the graphic pics to not be quite as pornographic as well.
We have moved a few pages and removed a pages of the old site as well. You may need to update your bookmarks. Of course we still have pages for people to visit when they want to see the nude cam girls and guys, but those graphic links to them are a little more hidden.
We are working on adding more to this new version, and will be listing to comments and feedback from our users during this transition process.